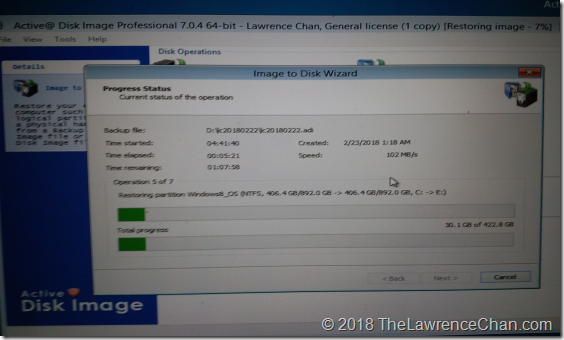 My hard disk trouble started in the early part of February yet I was not able to get it replaced for various reasons. Anyhow, I finally have it replaced by a new hard drive and everything looks fine so far. Throughout this ordeal, I learned quite a few things that's worth sharing.
Must Have Items While Traveling
Portable Hard Drive is a must-have for quick backup and restore. Without one, trying to buy a decent one with large capacity from a remote city may be very difficult. I have a 3TB one with me all the time while I am traveling. Even if my laptop is reporting a potential failure, I can immediately backup everything so that I know all the latest work I have done with my projects and researches are safe.
USB Boot Drive is another must-have since you cannot really backup your computer efficiently without it. The one I use is the one I recommended for years called Active Boot Disk. I use it to backup my computers regularly and in this situation, I managed to take a snapshot of my laptop the night when I first see the warning message.
With the first two items above, the issue of protecting your valuable data is taken care of. Even if your laptop is toasted while you were seeking for a replacement hard disk, you can still get things working on a new laptop.
To replace the hard disk inside your laptop is a more complicated question depending heavily if you are going to let a computer shop does the replacement for you, or, your laptop can be easily taken apart. Well, I have way too many bad experience with computer stores repair services that I almost always do my own upgrades and replacements now. Even if you are not good with handling computer parts, you should be able to find disassembly videos on YouTube on almost all types of laptops.
You need the following items to complete the hard disk replacement process:
A screwdriver set that can handle all the screw types on your laptop. In my case, my trusted 30+ years old Swiss Army Knife does not work with my Lenovo laptop. I was forced to buy a screwdriver set at the computer store eventually. The story about the computer store in next section.
A replacement hard disk that is at least equal in capacity as your original hard disk.
Finding a Replacement Hard Disk is an Adventure
It took me two weeks in three cities to find a computer store that actually sell decent size internal hard disk. The first two cities are not major ones so my hope was kept really low. But then the third one, being a large city, it still took me multiple attempts before finding a computer store that really sells slightly better hard disk models.
Maybe it is because I am in Europe, but it seems that all these stores are selling both external and internal hard drives at half the capacity we find in America. They are also priced more expensively. The funny thing is that in a big retail electronics store I visited with all kinds of computer related products, their sales people do not even know where the portable external hard drives are located within the store. They have to search the store for like ten minutes before finding the items.
I seriously do not know what to say about that.
Plan Your Backup
It took about 6 hours to backup my laptop with 400G of data. The time it takes is much longer than a typical laptop with same amount of data because I have a lot of highly compressed tick data stored on my laptop. It is very time consuming to backup such data because they cannot be compressed any further by the backup application.
Knowing the amount of time it takes to backup can help you plan ahead of time to schedule a down time for your laptop so that it will not disrupt your normal work schedule. What I did was starting the backup late in the night so that early next morning I can continue with the installation of the new hard disk with restoration right after. Just in case that does not work out as planned, I would quickly swap the old drive back into the laptop to continue my day.
Restoring the hard disk image onto the laptop with the new hard disk is actually a breeze. All it took was just an hour and 20 minutes. Once it was done I just shutdown the laptop completely. When I turned it back on, it was able to boot normally and everything feels the same. Well, in my case, the replacement hard disk is a faster model than the one that came with my laptop so everything actually run much faster.
Lessons Learned
1. Have a traveller set of computer screwdrivers while I am on the road.
You never know when you are going to need to take your computer apart. You do not need to carry the whole set. Just bring the bits for your devices and the handle will do.
2. Do not use SSD on your laptop.
SSD has great feedback from all computer users due to their faster speed. They are also perceived to be safer than the regular hard drives because they do not have moving parts. In reality, however, SSD drives are more likely to fail and have bad blocks developed quickly within first 2 years of usage. Yep, you may suddenly lose some part of your important files on an SSD without knowing it has already happened.
In comparison, the classic hard drives have come a long way as manufacturers of these drives have keep advancing the technology. In my situation, I am very glad that I chose my laptop with a hard drive instead of SSD. My decision at the time was based on the capacity that I need which was not available with SSD. I do not even know that the smart warning ability of the regular hard drives until I get one in this incident.
This smart warning ability gave me the precious time window to replace the drive with ease.
When SSDs eventually fail, they just die on you and you will not get the chance to backup your data first. Hence you will lose your latest work on your laptop one day no matter how frequent you backup your data.
3. Do not use SSD external drives as your backup drive.
For the same reason above, if your data is important to you, you should keep a regular hard drive as your backup drive.
I am sure that going into the future, the SSD technology will improve a lot just like the regular hard drives with better safe guard for our data. Until then, I will avoid SSD on my laptops.
4. Know your USB 3.0 Port on the laptop
The latest external backup drives use the USB 3.0 port for much faster performance. On many laptops, however, not every USB port are USB 3.0 port. Plugging in your external drive to the wrong port, will result in much slower data transfer speed. For example, my backup time of 6 hours will likely turn into 12 hours or more if I plug my backup drive to the wrong USB port on my laptop.
I made this mistake before with my regular backup routine. You can imagine what happen the next morning when I woke up seeing my laptop is not even half way through the backup process …
End Notes
It is not my first time seeing my laptops getting into trouble while I am on the road. To name a few, I have experienced RAM failure, overheating that killed the screen on the spot and bad electricity outlet that fried the power adaptor and the laptop (yes, fire too for those looking for excitement). There are many blizzard situations that we road warriors just cannot be prepared for. My advice is that have the essentials packed with you but don't panic when things go wrong. There is no point to get upset since computer failure is part of life.
Deal with it and you have another story to tell your friends.
Products Mentioned in this Article
Western Digital 3TB Portable External Hard Drive
List of Western Digital Portable External Hard Drive on Amazon