Today is the inauguration of the 45th US president. Donald Trump will become the US president for the coming 4 years. Interesting, however, is that the focus in the mainstream media is not about this event. Instead, the top stories are flooded with negative comments, both on Donald Trump himself and how bad his presidency will become, coming from famous people who messed up the world very badly over the past decade.
First I saw on the news, the US congressmen, the infamous bad actors, are "grilling" the nominees of White House important positions. I thought the US Presidential Election already told us what the people of US are thinking. Why are these crowns allowed to have a second say on Donald Trump's choices? Definitely an interesting way to make sure Donald Trump cannot run the country according to his vision.
Second, the name George Soros went to the top on multiple financial news outlets. Well, Soros being an "activist" and exposed for his "work" in funding all kinds of "unusual" activities worldwide to create chaos, told the press that Donald Trump will fail. Why is Soros so doomy? In my not so humble opinion, I think he is talking his book again. Maybe he is very short and need a outlier-sized pullback in the markets to get out of his troubled positions …
Third, the famous actors and actresses, teamed up with famous Hollywood figures, protested against Donald Trump in front of his Trump International Hotel in New York City. I remember some of these figures said they would emigrant to Canada (or other places). Why are they still there?
Here is a fun comparison of the importance of various things over time according to Google Trends.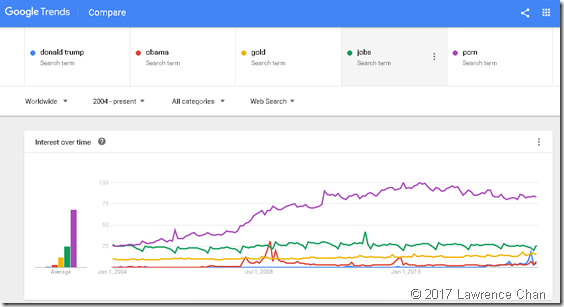 Obviously, Obama is not wanted since 4 years ago (that tiny blip in Nov 2012). On the other hand, Trump is so famous that we did not see a major surge in searching for his name unlike 8 years ago, when Obama was relatively unknown and being elected as POTUS for the first time. But both of them are not important, after all, as people searching on gold consistently beats them both.
And of course, jobs have always been in the mind of the normal people.
But none of the above matters when porn is added to the comparison. I guess it is fair to say sex being a primary human need is far more important than politics or work …
One thing I know for sure – the name Donald Trump will be a front page stable for the coming years whether you like it or not.